Sunday, a leading full-stack insurtech based in Thailand, has raised a USD 11 million extension round to its Series A financing.
The round was led by Quona Capital, a leading fintech venture firm whose funds are anchored by Accion, with participation from existing investor Vertex. The new funding will provide growth capital to enable Sunday to expand its business and build enhancements to its proprietary core technology, which utilizes machine learning to price premiums for health, motor, and travel insurance in real time. More information is available at www.easysunday.com.
Launched in 2017, Sunday offers end-to-end insurance products and services powered by its machine-learning risk prediction engines, and aims to serve all of its customers as the "one-stop insurance shop" for healthcare, mobile gadgets, motor vehicle and travel insurance.
"Over the last two years, Sunday has been laser-focused on redesigning the entire insurance journey using data and technology," said Sunday co-founder and CEO Cindy Kua. "Today we're proud to be able to deliver personalised coverage and superior customer experiences from initial insurance purchase all the way through to any claims, whether on the Sunday system or through its partner channels."
The new funding will enable Sunday to further grow its AI and tech development efforts, especially in healthcare, according to Kua. "We've invested considerable effort already to build a company that we believe is uniquely positioned to manage evolving risks within a highly localized Southeast Asian market like Thailand, and we're excited to grow these efforts further with the support of Quona Capital," she added.
"Insurance is such a vital part of how people all over the world achieve financial resilience," says Ganesh Rengaswamy, Co-founder and Managing Partner at Quona Capital. "Quona Capital is proud to back Sunday to not only make insurance more readily available to Thailand and other parts of Southeast Asia, but to do so in a way that is consumer-friendly, fairly priced and transparent for users."
"Cindy Kua brings a profusion of industry expertise and leadership skills to Sunday. We are super excited about the company's potential to become a preeminent player in the region, and very much look forward to collaborating with Sunday's team," added Quona Capital's Daniel Bertoli.
Chua Kee Lock, Managing Partner at Vertex Ventures SEA and India said, "We have witnessed insurtech startups disrupt the traditional insurance industry in the West and in China. Indeed, we are excited to see the same phenomenon in Southeast Asia. Sunday has a good head start and has gained significant traction in the Thai ecosystem, but this represents only a drop in the ocean. Looking ahead, we welcome new investors as we continue to grow the Company's footprint in Southeast Asia."
Currently available Sunday solutions include real-time health, motor and travel insurance premium pricing, employee health benefits platforms for corporate entities and their employees, mobile-first claims platforms for motor and health insurance, and a travel insurance pricing platform for travel agencies, among others. Collectively, the industries addressed by Sunday's insurtech solution — which include a range of businesses in manufacturing and trade, retail and service industries — power more than 87% of Thailand's GDP.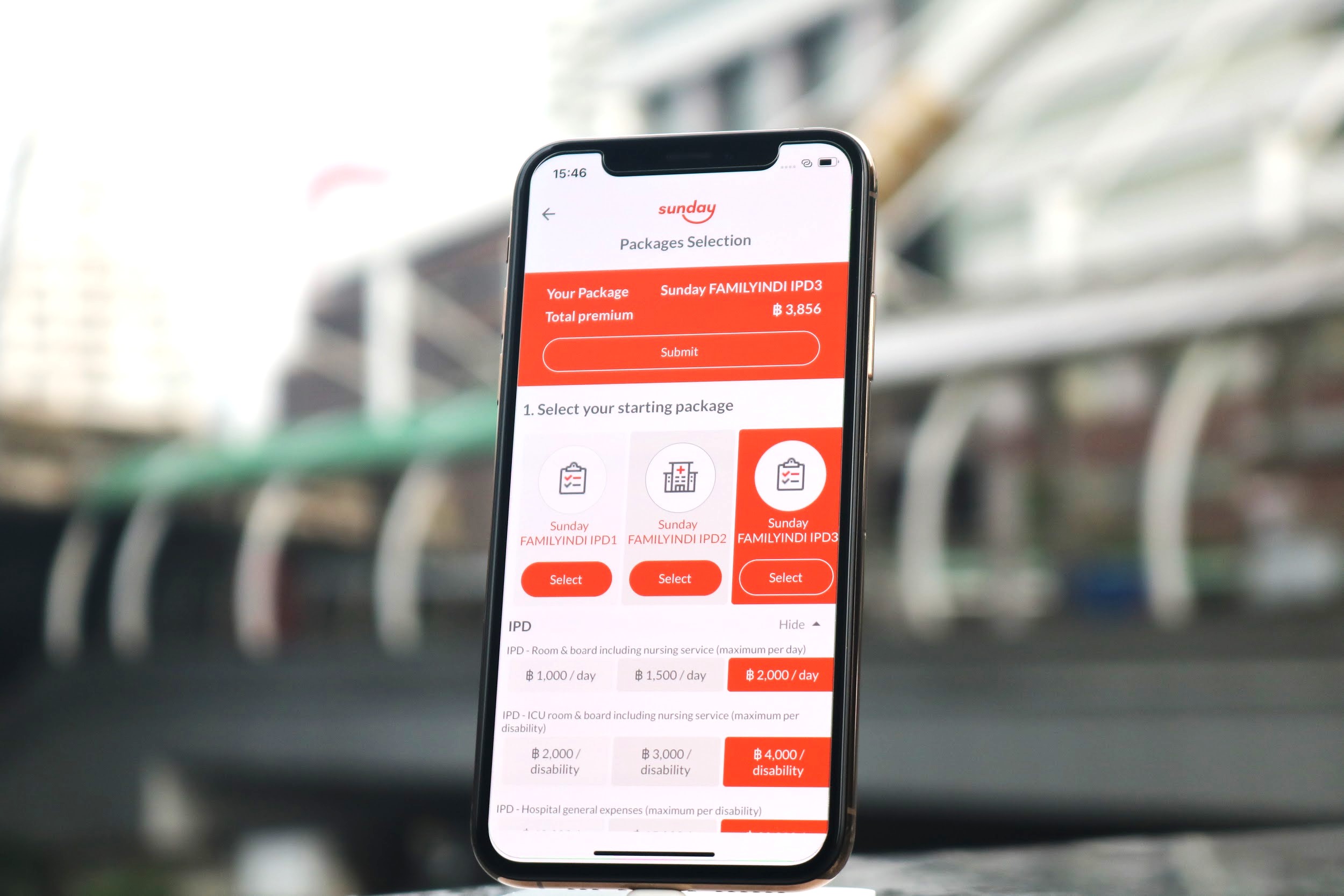 About Sunday
Sunday is a fully-integrated sales and services insurtech that uses artificial intelligence and digital platforms to offer personalised insurance products and services that suit all types of individual and business risks. Here to reinvent the entire insurance value chain, the company offers its end-to-end solutions via its partners and proprietary distribution channels. More: www.easysunday.com
About Quona Capital
Quona Capital is a scale-up stage venture firm focused on fintech for inclusion in emerging markets. Quona partners have deep experience as investors and operators in both emerging and developed markets, and look for entrepreneurs whose companies have the potential to provide outstanding financial returns and promote breakthrough innovation in financial inclusion. To date, Quona has supported more than 25 financial technology companies expanding access for underserved consumers and small businesses in Latin America, India and Southeast Asia, and Sub-Saharan Africa. Quona got its start through a strategic relationship with Accion, a global nonprofit with a pioneering legacy in microfinance and fintech impact investing. The firm has offices in Washington D.C., Bangalore, Cape Town, Mexico City and Singapore. More: www.quona.com